Google takes another feature from Apple for Android Q
21
We already know that
the new gesture system in Android Q is going to copy from iOS
with a swipe up from the bottom of the screen taking you home. Swiping from the left or right edge will take you back a page. To switch apps, swipe up from the bottom, hold and then release. But the gestures aren't the only thing that Android Q is taking from iOS.
According to Android Police
, the third Android Q beta includes at least one change made to the Battery Saver feature that is similar to the "Low Power Mode" on iOS.
The new option found in the Battery Saver menu for Android Q is called
Turn off when fully charged
. When toggled on, it will automatically turn off Battery Saver when the battery is charged up to 90%. Currently, if you have Battery Saver enabled, the feature turns off during charging but will turn back on once the charger is unplugged from your phone (with Android 9 Pie and up). The new feature is similar to one on the iPhone's "Low Power Mode," which turns off automatically once the battery is 80% charged.
In Android Q, Battery Saver has another new feature. It can be set to go on automatically based on when you've been charging the phone. So you will have the option to turn on Battery Saver on demand when the battery percentage falls under a certain figure or based on your "Routine." The latter will compute when the battery is going to run dry, and if it expects that to happen before the time you usually charge your phone, it will automatically turn Battery Saver on.
When Battery Saver is on, apps won't refresh their content until you open them. When your screen turns off, Location services stop working, and apps stop working in the background (unless you disable battery optimization).
Many Android users have Battery Saver set to automatically go on once the battery percentage on their phone is down to its last 15%. Using "Routine" could allow Android users to squeeze even more time out of their phone before having to use Battery Saver to keep their handset from dying.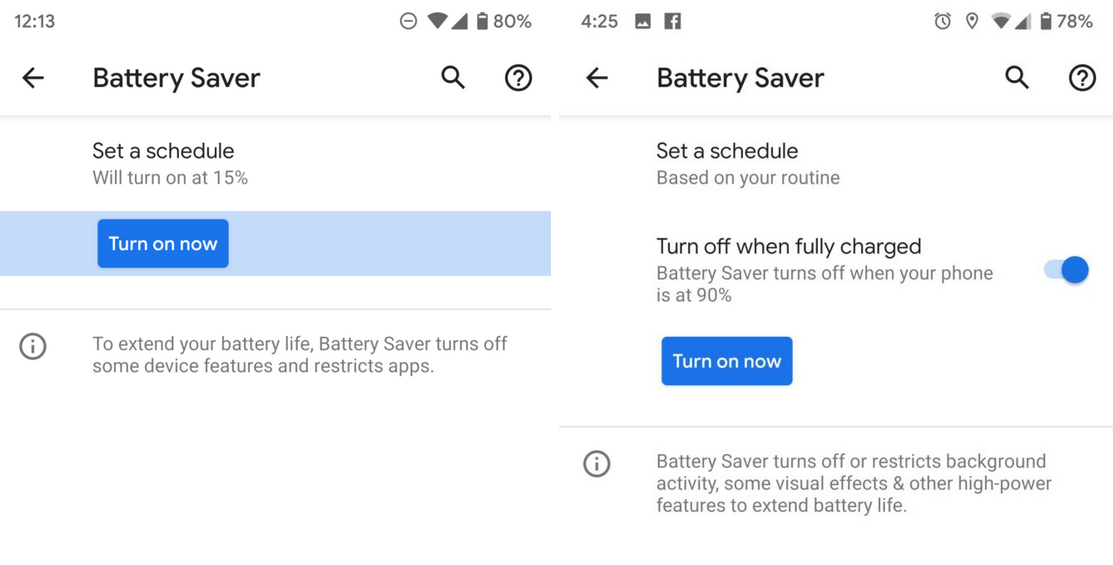 Updated Battery Saver (on right) can be set to turn off when the battery is charged to 90% on Android Q