Two ZTE Nubia Z9 models pose for the camera
4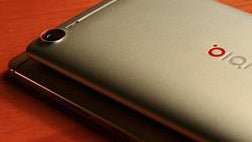 ZTE Nubia Z9
is shaping up as quite the promising handset, with flagship specs and premium design, but there might be another one in the making. According to the specs trail, the Z9 will sport a 5.2-inch display with a resolution of 1080 x 1920, for a pixel density of 424 ppi, an octa-core Qualcomm Snapdragon 810 processor, and 3GB of RAM. Furthermore, it is revealed that the device in question will tout a 16-megapixel camera at the back (optical stabilization likely), and an 8-megapixel selfie snapper at the front. The unit will run on Android 5.0.2 Lollipop.
It turns out, however, that the Nubia Z9 outlined above may very well be the Nubia Z9 mini, if ZTE continues with the same strategy of releasing three flagship devices per cycle. The rationale here is simple – the previous generation
Nubia Z7
had a display size of 5.5-inch, so unless the company has decided against big screens, it is possible that the 5.2-incher we're looking at actually ends up as the Z9 Mini. Furthermore, we should also point out that the Nubia Z7 was, confusingly, more impressive than the
Z7 Max
(1080p), owing to its 1440 x 2560 resolution Quad HD display.
Again, unless ZTE has since decided against QHD panels, it seems like that more's to come from the company. In fact, both Nubia Z9 versions leaked out now, and one is clearly larger than the other, so ZTE might pull off the same trick like it did last year with the multiple Z7 variations. Take a peek.