Twitter suspended a whopping 70 million accounts in May and June
12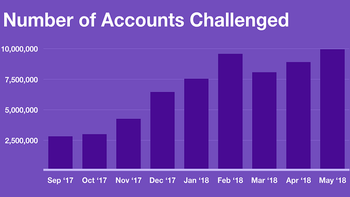 U.S. intelligence agencies say that the Russians meddled with the 2016 U.S. presidential election, and one of the conduits that they used to get the results they wanted were social media sites. With so much at stake, these same agencies expect an encore in the weeks leading up to the 2018 mid-term elections. Despite all of the news related to the subject, it still is stunning to hear that Twitter has been suspending accounts at the rate of over 1 million a day, according to
The Washington Post
.
Over the last two full months, more than 70 million Twitter accounts have been suspended and the rate has doubled since last October. The data obtained by the
Post
shows that July suspensions are running at the same pace. And this is bound to have a negative effect on the company, the stock, and Twitter stockholders. One person who remained anonymous because he is not authorized to talk to the media, says that Twitter could report a drop in the number of monthly users for the just completed second quarter.
The pickup in the number of suspensions represents a change in the thinking of Twitter's top brass. Del Harvey, Twitter's Vice President for Trust and Safety, said that it has only been recently that the company developed the technology to find the accounts that deserve to be suspended. This also required Twitter to decide that the safety of the public is more important than "free expression." Harvey said in an interview last week that free expression means little if people don't feel safe.
"One of the biggest shifts is in how we think about balancing free expression versus the potential for free expression to chill someone else's speech. Free expression doesn't really mean much if people don't feel safe."-Del Harvey, Vice President for Trust and Safety, Twitter
The Russian troll factory known as the Internet Research Agency, which was indicted in the U.S. by a Grand Jury along with 13 Russian nationals and two other corporate entities, had over 3,000 Twitter accounts at the time of the 2016 election. More than 50,000 automated accounts had connections to the Russian government at that time, according to Twitter.
In a blog post published late last month, Twitter said that it is challenging 10 million accounts a week (see the image at the top of this article). This is being done to verify account owners, who are asked to confirm their phone number or an email address on record.
As of the end of last year, Twitter had 330 million monthly active users.
Recommended Stories