Twitter apologizes for #POTUS screw up
46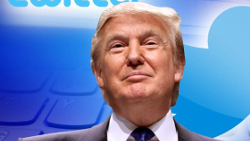 With all the excitement surrounding the presidential inauguration on Friday, Twitter apparently took its eye off the ball. Many subscribers who have no intention of following the new president discovered that all of a sudden they were receiving the latest pearls of wisdom from Donald J. Trump, misspellings and all. This was considered such a serious breach on the part of the social-media company, that CEO and co-founder Jack Dorsey was trotted out to explain what happened.
Dorsey said that once the clock struck noon on Friday, the @POTUS Twitter account that President Obama had been using belonged to the new commander-in-chief. Those who followed Obama would now follow @POTUS44 and Trump followers would be following the @POTUS account. That sounds simple enough, right?
But Twitter mistakenly arranged for @POTUS44 followers to also follow @POTUS. At the same time, some Twitter members who had unfollowed @POTUS in the past were put back on the "following" list by mistake. About 560,000 people were affected, and the mistakes also occurred on other Administration accounts such as @VP, @WhiteHouse, and @PressSec. As Dorsey said in a statement today, "This was a mistake, it wasn't right, we own it, and we apologize. No excuses."
If you were shocked to find a tweet from @realDonaldTrump on your Twitter feed Friday, there is no conspiracy theory. After rushing to find an answer, Twitter discovered the mistakes and everything is now back to normal. If you want to follow the current POTUS, you will receive his tweets. If you want to continue following Obama, you will be following @POTUS45. And if you're tired of hearing from both, unfollowing their Twitter accounts will keep you Twitter feed POTUS-free.
source:
Gizmodo