Tweet claims that Motorola will change its policy on unlocked bootloaders as soon as Q3
8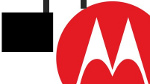 About 5 months ago, a Twitter user by the name of Irwin Proud started a
petition
aimed at getting Motorola to
unlock
the bootloader on its devices. The 10,000 signatures collected by Mr. Proud was enough for Motorola to say that they "would look into it." Since then, we have heard nothing from Motorola-until now after Irwin spoke with the company on the phone.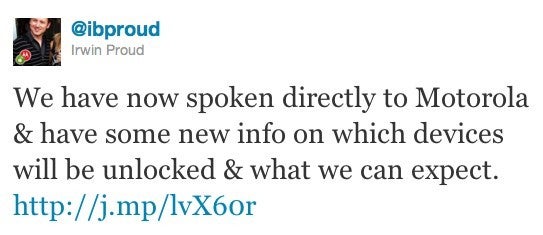 Irwin Proud says that Motorola will be issuing an update to unlock bootloaders as early as Q3
After speaking with Christy Wyatt, Vice President of Mobile Software for Motorola Mobility, it appears that the manufacturer is singing a new tune. Ms. Wyatt told Mr. Proud that Motorola is
serious
about listening to what everyone appears to want and has been working on a
software update
that will produce an
unlockable/relockable
bootloader on Motorola devices. The update is expected to be pushed out in the third or fourth quarter of this year. The company will be able to do this by building all of its Android devices from the same unlocked source code. Ms. Wyatt added that the company wouldn't be in this mess if it wasn't so good at security.
The reason for the delay since Mr. Proud started his campaign all those months ago had to do with how each carrier had to make sure that the update would not only work, but also be
safe
and
secure
for customers. So which of Motorola's handsets will have its bootloader unlocked? Motorola says they have received
positive
feedback on the
unlockable/relockable bootloader on the Motorola XOOM tablet
and as a result, feels confident that each one of the company's future devices that gets an update in the future will also be getting its bootloader unlocked at the same time. In other words, any Motorola device expected to get an
update
in the second half of this year should end up with an
unlocked
bootloader. See, you can fightCity Hall.
source:
AusDroid
via
Phandroid