Turn your snapshots into better ones with CyberLink's PhotoDirector app
6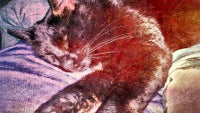 The native photo editing tools on our smartphones are nice to have, not everyone uses them, but they're there for our convenience. Some are more comprehensive than others, which can sometimes overwhelm the novice shutterbug. However, for those who want to achieve some slick looking editing tricks, without having to understand all the ins and out of a particular editing tool, CyberLink's PhotoDirector mobile app is one that we've taken a liking of late.
First of all, CyberLink's photo editing app mirrors its full-blown desktop PC counterpart in terms of its editing tools and various filters. Secondly, it has great reach because it's a free download on Android, iOS, and even Windows – albeit, for Windows running tablets only. And last of all, it doesn't take a rocket scientist to figure out the app. In fact, it's arranged in a simple view that allows us to quickly get access to its vast editing tools, enhancements, and much more.
Without getting into all of the details, the single greatest part about PhotoDirector in our time using it, has to be that we can elevate the look of our snapshots. Don't get us wrong, some phones take spectacular photos on their own, without any sort of editing intervention from an app, but even the best of camera phones can still achieve a higher degree of quality with the aid of PhotoDirector.
Okay, all of the expected editing tools are at our disposal, such as cropping, rotating, flipping, and much more, but it also extends to some other areas as well. While most phones are more than capable of properly adjusting the white balance of a particular scene, PhotoDirector allows us to adjust it post shot – giving it warmer or colder tones. In addition to that, we have other parameters to adjust, like color saturation, exposure, and a cool HDR slider that give things a bit of 'pop.'
There are, however, some advanced functions that are otherwise not even available in your standard, native editing app. Most folks might shy away from using them, but Android users of the app benefit the most because we have sliders for H/S/L and Curves, which gives us precise control in adjusting individual color channels. It's a useful thing to have, especially when you're well-versed in this art of editing.
Now, this wouldn't be a diversified photo editing app without an army of effects to add into our photos. Some of the effects include lomo, artistic, HDR, Black & White, and Face, which all pretty much follow in line to the filters we're given with Instagram. Going beyond that, though, there are even more overlays, frames, and creative scenes that transcend photos to that artistic path. We like them, like some of the blender effects and overlays, which intensifies photos for a more dynamic look.
We can go on and on about PhotoDirector's usefulness, but we primarily appreciate how it can transform any photo to even better one. Are you still not sold by its ability to do exactly that? Well, we were pretty skeptical at first too, but as we grew more confident in using the app, the more we became quite creative at using the various tools and tricks in its arsenal. Even the most boring of snapshots can easily transform into something surreal, something dreamy in many ways too. Indeed, a lot of emphasis is placed on a phone's ability to capture incredible photos right from the onset, whereby fine details are captured in the process, but PhotoDirector can be regarded as complementary – adding that necessary spark to heighten photos.
Don't believe us? Then check out some of the before and after images we captured using an LG V10, and proceeded to use CyberLink's PhotoDirector app to edit them. Even though not every photo we've taken received the PhotoDirector treatment, we mainly reserve it for the few that we really want to share on social media. Sure, the treatment may be a bit too artificially composed at times, contrived even, but deciding on the right choices can produce enough balance for a good looking photo to become better looking.
And if you're a foodie that has the itch to constantly take a snapshot of your many dishes,
CyberLink is currently running a contest
until January 4, 2016, where winners using its app to enhance and share their dishes, will be placed into the running of winning prizes that are up for grabs. As for the app itself, you can download it
here
,
here
, and
here
.
Recommended Stories