Turn your selfies and other fun Instagram pictures into…marshmallows
4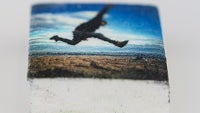 If there is one thing that the smartphone phenomenon has been a catalyst for, it is the selfie. If there is one thing that the cameras on our smartphones have also been party to, it is to pictures of food. Now, thanks to a new start-up in the UK, we can have pictures on food, in this case, marshmallows.
Boomf is printing your favorite instagram photos on marshmallows, nine edible treats for £12. Right now, the UK is the only market where your printed marshmallows can be had. However, in the early part of next year, we will see Boomf begin a worldwide expansion.
The process is simple, you choose nine images from Instagram, Boomf prints them on to nine, 4cm by 4cm square, squishy treats and mails them wherever you desire. Once you get them, eat them, roast them or dip them in coffee.
How is the print quality? Well according to Boomf, "We think it is pretty good. But, people, remember we are printing on marshmallows here! It isn't Retina Display." The timing is good for a holiday treat, too bad they will not be available in the US just yet.
To our UK readers, let us know how they taste.
source:
Boomf
via
BetaBeat