Turn your aging car into a smart one with this materially designed Dash app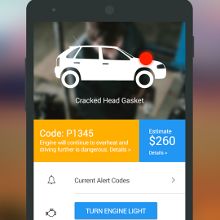 Apps that take advantage of the OBD port in your car are usually a but clunky in terms of design, though undoubtedly brimming with functionality. Not Dash, though - the new app "turns any car into a smart car," which, ahem, just means that it reads and displays the info coming from the Bluetooth adapter plugged into your car's OBD port.
That's not all there is to it, though, as almost any OBD reader app can show you check engine light readings, average miles per gallon, revolutions per minute, nearest gas station and so on. Dash comes with a beautifully crafted, very readable design of the Material kind, but also with lots of transparencies and animations. The app even offers parental control, telling you when your teen slammed frantically on the brakes, geofencing them, or check out if they've followed the curfew imposed. If you like what you are seeing in the video below, check out Dash from the source link.
| | |
| --- | --- |
| Developer: Dash | Download: Android |
| Category: Travel&Local | Price: Free |