Turbo Camera for Windows Phone can shoot 30 photos per second, now on sale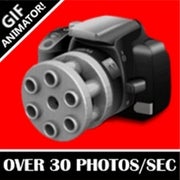 We recently wrote about this pretty neat Android app called
Fast Burst Camera
. As the name implies, it is used for capturing photos at higher rates than it stock software would allow
–
up to thirty shots per second on some devices. But is there something similar that Windows Phone users can download? Sure there is! The software is called
Turbo Camera
and it just recently reached the 250,000 downloads mark at the Windows Marketplace.
Under the right conditions, some faster Windows Phone handsets can take up to 30 photos each second with Turbo Camera. You may also pick the resolution, at which shots are being captured, with lower resolutions naturally resulting in faster performance. Another cool thing that the app can do is to create an animated .GIF file from your photos
– perfect for sparking hilarity in those forum threads.