Google Nexus 6 unboxing
46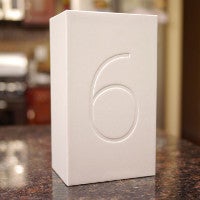 The Nexus 6 has landed! And boy are we excited by it. Motorola has surely been one busy bee of late, considering that it's nearing a couple of months since the new Moto X burst onto the scene – with the announcement of the mighty
DROID Turbo coming only yesterday
. A new day is upon us, one that's enlightening because of the long awaited arrival of Google's latest update to its mobile platform, Android 5.0 Lollipop.
On our desk sits the Google Nexus 6, which in collaboration with Motorola, brings the fabled Nexus name into the phablet space. The specs, of course, are downright drool worthy from almost every angle we look at it. Without getting into too much detail about the phone, it packs along a 5.96-inch 2560 x 1440 quad-HD AMOLED display, 13-megapixel rear camera, quad-core 2.7GHz Qualcomm Snapdragon 805 processor, 3GB of RAM, 3220 mAh battery, and of course, stock Android 5.0 Lollipop out of the box.
Now it's really tough to say if the unit in our possession is the final retail packaging for the phone, mainly because it's pretty bare bones. In fact, the only distinguishing thing on it is the number 6 embedded on the front – with nothing else to really indicate its contents. In a way, we can say that it's a pure look, one that only needs a single number to let people know what it is. Included with it, of course, is the usual set of documentation, microUSB cable, SIM removal adapter, and the wall charger. Certainly, it's the usual suspects we're given, but we're not too surprised.
Obviously, you can
pre-order the phone now
as an unlocked model for $649 for the 32GB version – or $699 for the 64GB one, where it's available in midnight blue and cloud white paint jobs. If you're looking for the contract route, just know that all the major domestic carriers will be offering the phone for $0 down for installment plans, or just the usual $200 with a 2-year agreement.