Google Nexus 9 unboxing
14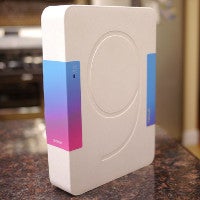 Tablets are still big business for many, but when it comes to the affordable segment, there are plenty of Android powered ones to choose from. If you want that balance between performance and pricing, you only need to look at new Google Nexus 9. Partnering up with HTC on this one, the Nexus 9 is one impressive tablet from a specs point of view, but at the same time, it's not too draining on the pockets either.
We're lucky to have the tablet in question in our possession at the moment, so we're undoubtedly eager to check out what it has to offer – Android 5.0 Lollipop is one of them, naturally. Taking a quick peek at the packaging, which looks to be the final retail one, the number 9 is emblazoned right on the top of the box. Depending on how you have the box oriented, it can be mistaken for a number six, but hey, the box's size indicates it's the larger Nexus product.
Around the sides, we have the logos from all of the partners that help produce this tablet – like HTC to be exact, who has been strangely out of the tablet game for quite some time. For them, this is a special occasion, one that should no doubt put them back into contention. Inside, we're greeted to the tablet in question, the usual set of documentation, wall charger, and microUSB cable.
Already, it's shaping out to be a formidable thing. We won't get into all of the details here, but some of its main highlights include its 8.9-inch 2048 x 1536 (QXGA) IPS LCD display with Gorilla Glass 3, 8-megpixel rear camera, 64-bit based NVIDIA Tegra K1 processor, 192-core Kepler GPU, 6700 mAh battery, and stock Android 5.0 Lollipop. Like we said in the beginning, the Nexus 9 is also notable for its aggressive price point – $399 for the starting 16GB Wi-Fi model. In addition, there's a $479 32GB one, and a $599 32GB LTE model.