Toyota's iQ the first vehicle to MirrorLink your smartphone screen on the infotainment display
2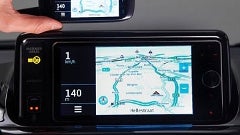 Toyota Touch Life is the name of new feature that the company will add to its cars, first in the iQ city soapbox. The large 7" infotainment display there will be able to literally
mirror your smartphone screen
, becoming the first to employ and use the MirrorLink standard, developed by the Car Connectivity Consortium.
Nokia's phones are on tap to use MirrorLink via the dedicated
Nokia Car Mode app
, which gives you easy access to the most used phone functions, as well as multimedia and navigation features on your smartphone. Apple iPhone users can download the
Application Launcher
app from the App Store for similar operations.
In addition, everything displayed on the phones' screens will be projected on the car's display as well, including responses to your touchy fingers like scrolling or swiping. While the car is stationery, of course, we doubt any car manufacturer in their right mind will risk a frivolous lawsuit enabling you to mirror your phone's display on a larger screen in the car while driving -
smartphone usage in the car is distracting enough as it is
.