Toshiba introduces the next iPhone Killer?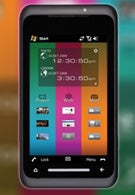 It has been said before. The LG Voyager, the G1, the HTC Touch HD and the BlackBerry Storm. Even the Palm Pre, which has not even been put on sale to the public yet, is on the list. All of these phones were to be the stealth assassin, silently entering the house where the iPhone 3G lives and killing it. Despite the large number of devices that set out to do the task, no one has yet been able to really be the iPhone killer. Now comes another entrant, Toshiba, and their newly announced TG01. This device might have what it takes as it features a huge 4.1-inch WVGA 800 x 480 384k
pixel
resistive touchscreen. While running on Windows Mobile 6.1, other features include 3G HSPA,Wi-Fi, GPS and A-GPS. It will be the first phone running on Qualcomm's 1GHz Snapdragon chip. The TG01 will have a virtual track pad for web navigation and speaking of the internet, this device will have Internet Explorer Mobile 6 which includes full support for Flash. Like many other smartphones in its class, the unit will respond to gestures, but the TG01 will also hang up and answer calls by shaking the device. The model is expected to ship with apps to YouTube, Google and Facebook and the GUI will be set up for one handed use, featuring vertical panels. Toshiba says to expect the TG01 to be out in Europe this Summer and while no carrier or price has been announced, you can expect this potential iPhone Killer to cost about the same as the phone it is trying to kill. It might be time for all iPhone owners to keep an eye on their phone with this potential assassin soon to be on the loose.
via:
SlashGear