Toshiba Excite X10 hands-on
4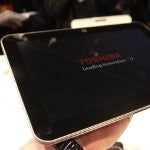 It was only a week away that
Toshiba let slip
that they were getting ready to show off the worlds thinnest and lightest 10-inch tablet at CES 2012. Now, those aren't exactly words that are thrown around lightly. They are sort of the "I love you" of the tech industry. Okay, that may be a little extreme, but it was a bold claim nonetheless.
So we showed up at Toshiba's CES booth and we were able to take a first-hand look at the tablet that caused them to drop those two big words that grabbed the attention of many. The tablet
formerly known as the AT200
is going to go by the name of the
Excite X10
and frankly; we were impressed from first sight.
Measuring in at
only .3-inches thick
, the
Android Honeycomb
tablet (that is upgradeable to ICS) is skinny indeed. It is quite light as well,
1.18 pounds
to be exact, and didn't cause us any sort of strain even when held with one hand for an extended period of time. Size aside for a moment or two, there are a few other things that help escort the Excite X10 to the upper echelon of modern day tablets that their previous attempt, the Toshiba Thrive, couldn't even come close to.
The
10.1-inch IPS display is fantastic
. With a screen resolution of
1280x800
, everything from text to images is crisp and clear. Colors were rich and vibrant and really looked great. Moving in an out of apps and swiping through screens on the Excite X10 was also a great experience thanks to the
dual-core 1.2GHz processor
that is powering it. That quad-core Toshiba tablet that showed up in a benchmark just last week must be something else that they have planned down the line.
The Excite X10 is the kind of device that just screams high quality. From the highly attractive brushed metal backing that extends around the devices sides to the snappy performance and wonderful screen, Toshiba could have really hit a home run here if they manage to avoid the same magnitude of issues that plagued the Thrive. The Toshiba Excite X10 will be launching sometime in Q1 with an
expected price tag starting at $529
for the 16GB model. Who plans on picking one up for themselves?