Toshiba Excite 10 benchmark tests
4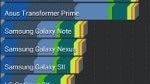 It's the attack of the quad-cores and it's coming to us at full force! No doubt a stranger amongst Android tablets of late, as Asus has been ever so kind to remind us all, we're starting to see it in more devices than ever before. In fact, veteran PC maker
Toshiba
is finally in the game with its very own
quad-core packing Android tablet
– with the
Toshiba Excite 10
aiming to erase the memory of its ill forgotten sibling in the Toshiba Thrive.
Out of the box, we have to report that the Toshiba Excite 10
doesn't disappoint with its performance
in any way, shape, and form, seeing that it executes nearly all operations without a hitch. Much like other tablets running
NVIDIA's quad-core Tegra 3 processor
, the Excite 10 barely shows any hint of strain with its movement. Testing out its processing prowess with a live wallpaper, it's still able to maintain that lovable responsiveness we're accustomed to experiencing with high spec'd devices.
Getting straight to work, the benchmark results go on to confirm our previous suspicions with the Toshiba Excite 10. For starters, it's able to pull an average score of
4,046 on Quadrant
, which is definitely within the same range as its other quad-core packing rivals. Furthermore, its average score of
10,675 on AnTutu
solidifies itself as a bonafide competitor to the Asus Transformer Prime, as it's able to barely inch out a win with its impressive scores. And finally, its average
47.7 frames per second tally on NenaMark2
won't impress much people when compared to the 60 FPS achievement by other devices, but nevertheless, it's something that seems to be related to NVIDIA's processor.
Well folks, we're itching to play around with the Excite 10, so with that, we'll be testing it out extensively to see how it'll all add up in the end – still, we're gladly accepting of its processing power already.