Top three tablet producers in North America: Apple, Amazon and Samsung
9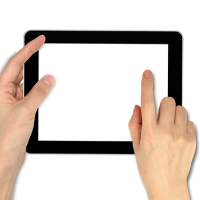 Mobile ad network Chitika has sifted through the data, and has produced information about the North American tablet market. The figures reveal that the Apple iPad still has the lion's share of the market share in the category. With 79.9% of the North American tablet market in September, the iPad has seen a small decline from the 81.0% market share it owned a year ago. Since July, the iPad has actually seen an increase of 1.9 percentage points.
Behind Apple is Amazon. The forked Android powered Kindle Fire line has given the company a 6.7% slice of the North American tablet pie. That figure was flat from the 6.7% share that Amazon had in 2013. We are near the holiday shopping season, a period that is usually a good one for the Kindle Fire slates, thanks to their low prices. And that brings up Samsung. With a gain of .9 percentage points from September 2013 to September 2014, the manufacturer had the largest increase in North American tablet market share year-over-year. Sammy now owns 6% of the market.
Even though its Surface Pro models were not included (they are considered laptops by Chitika), Microsoft had one of the best increases in share year-over-year, on a percentage basis. Led by the
Microsoft Surface 2
, the company saw its tablet share in North America rise from 1% to 1.6%.
Verizon's Ellipsis 7
even managed to show up in the data, holding .5% of the market. The carrier will
shortly introduce the slightly larger Ellipsis 8
.
Besides Apple, other tablet makers that have seen their market share decline year-over-year, include Asus, Acer and Barnes and Noble. Google's Nexus tablets, fourth overall behind Samsung, had a slight rise over the year from a share of 1.6% in September 2013, to a share of 1.7% in September 2014. For Chitika's next report, we should see HTC represented on the list. The manufacturer produces the red hot
Nexus 9
tablet.
source:
Chitika
via
AndroidCentral