Top phones with IR blaster and remote control functionality (2015 edition)
16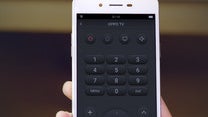 An infrared photon walks into a bar and says, "Is it hot in here, or is it just me?" Get it? Because infrared light is thermal radiation... Oh, forget about it. Let's shift the focus over to smartphones. Smartphones with IR blasters, to be more specific.
No, emitting heat isn't the purpose of these tiny infrared LEDs built into so many smartphones. It is not even close. An IR blaster built into a phone allows the handset to double as a universal remote control for a number of electronic devices we have around our homes. Using a special pre-loaded app, the phone can be programmed to control a TV, a set-top box, and maybe even your air conditioner.
Not all smartphones have a built-in IR blaster, however, which is why we thought we'd make a list of all the cool phones that offer one. In the slideshow below you'll find our top picks.
Recommended Stories