Top 10 smartphone makers in Q1 2015: Sony and Microsoft drop out of the picture, Chinese phone makers take over
31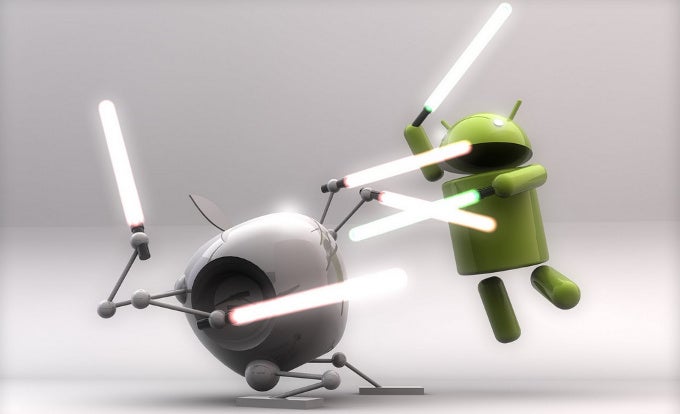 The smartphone marketplace is such a dynamic place that it is hard to keep track of who's who: just a few years ago, Nokia was at the top, then Samsung went to rule, and these days, it seems that it's Chinese phone makers that are aiming to occupy the top 10 list.
Samsung is back at the top
Last year, Apple send shockwaves through the industry with record-breaking sales of its iPhone lineup, and for the first time, it tied with Samsung for the first place. Naturally, this was not meant to last - and it's natural because Apple sells only upper-tier phones, while Samsung offers everything from low- to mid- to high-end devices. In the first quarter of 2015, Samsung is at the top of the listing again with sales of 82.8 million devices, grabbing a 24.3% market share, while Apple's 61.6 million sales grant it the second place with 17.9% of the market in terms of units sold.




The big news following the first quarter of 2015 is that Sony and Microsoft, two of the most renowned brands, have dropped out of the top 10 phone manufacturers, replaced by Chinese phone brands. Actually, excluding Apple, the top 10 list of phone makers now consists of 9 Asian phone makers, and 7 of them are from China. The newcomer this quarter is Vivo, a phone maker that focuses on premium handsets with an affinity for higher-fidelity audio capabilities.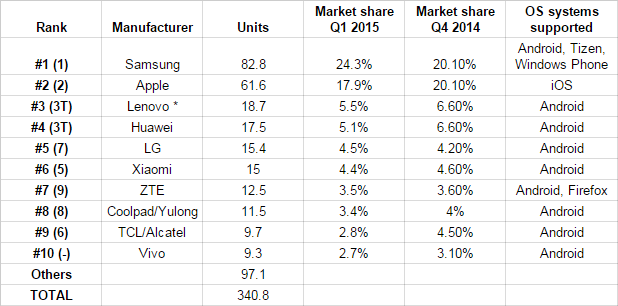 *Lenovo stats include Motorola unit sales, all units are in millions
The stats come from former Nokia executive Tomi Ahonen, who has one of the best track records when it comes to predictions, and here's an interesting speculative tid bit from his latest analysis:
"Obviously we've already seen the market share peak of iPhones and my projection is that the actual market share for full-year 2015 for the iPhone will be down again this year."
It's a speculative radical projection, but given the momentum in iPhone sales, it seems to go against the market logic, so it'd be interesting to keep track of that. What do you think about those charts above: are you surprised to see so many phone makers from China taking over? And do you think that Apple's iPhones have peaked?
Recommended Stories