Too many cables? These compact cables may set you (tangle) free
12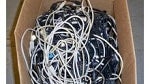 If you are into high-tech gadgets and toys, you probably have a more than a few, and that means you probably have a lot of cables. Dealing with too many cables can complicate things. The desk gets cluttered, and the cables find way to tangle themselves, especially when traveling.
In today's world, a USB cable and maybe an accompanying AC charger are all you need to keep the juice flowing to the gadgets when you hit the road. That is where AViiQ comes in with the "Ready Clip" and "Quick Change" mini cables. At just over 5-inches in length, made of ABS and TPU plastic, and with a little pen-style clip, these mini cables can slide into brief-case or shirt pockets with no problem. Compared to a couple of standard 3-foot long cables, these may be the perfect addition to your travel kit.
Sold in pairs for $30, you can get any combination of the "Ready Clip" cables in the three common connectors, mini- or micro-USB, or 30-pin (for current or previous generation iPod/iPad/iPhone devices). The "Quick Change" mini cable is also $30 and is a stand-alone item with the 30-pin, mini- and micro-USB connectors placed on a rotating adapter head.
Source:
AViiQ