Today's Google Play deal honors Keith Richards
1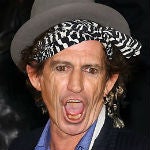 Yesterday, Google
kicked off its holiday deals
, and has promised a new surprise deal every day until New Years. The interesting thing is that it seems the Google Play page will list the old deals each day, but the deal isn't actually there. So, you can still see the download link for Hotel Tonight, but the deal is no longer active. Better to just focus on the new deal from the Google Play Store which honors Keith Richards.
Keith Richards, for those who don't know, is a founding member and guitarist for the Rolling Stones, and today is his birthday. Today, Keith is 69 years old, and it is widely regarded as a miracle that he has lived this long, given the rock and roll lifestyle that he has enjoyed for the past 50 years as part of the Rolling Stones.
To honor his birthday, Google Play is giving away a free live version of "Beast of Burden" from the final show of the Rolling Stones' 1982 tour. It's unclear if it's part of the deal, but you can also purchase the entire album for just $4.99, which is an amazing deal given that the live album is 25 tracks.