Today, Samsung launches the Galaxy S III globally
26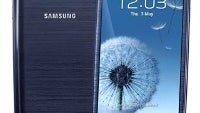 The Samsung Galaxy S III is probably the most anticipated Android handset for the year and the day when it finally launches is here for 28 countries across the globe, but not the United States. In the US, the handset is expected to arrive later in the summer on various carriers with some minor tweaks. At the same time, Samsung's grand plans say the SGS III will be on 296 carriers in 145 countries by July.
Today,
on May 29th, the Galaxy S III hits shelves
in the following countries and regions:
- United Kingdom,
- France,
- Europe,
- UAE, Saudi Arabia, the Middle East,
- Africa.
The version that will first make it to retail stores in the aforementioned countries is the 16GB SGS III in Pebble Blue and White.
This is the biggest launch of a single handset for Samsung as the company plans to quickly expand the countries where the SGS III is available. We already know that the handset hit a record 9 million pre-orders by carriers, so it has the head start even before the first day of official sales. The Korean company is also kicking off a Galaxy S III world tour in some of the biggest cities across the globe, to raise awareness about its new flagship.
We've now added images of the big lines for the Samsung Galaxy S III across major European cities like Berlin. It seems like Samsung has hit a home run with the Galaxy S III - it's probably the first Android handset to generate such iPhone-esque hype, isn't it?
*All images below are courtesy of REUTERS/Fabrizio Bensch.