Tipsters add Sony Xperia Z1's (aka Honami) metal frame to an already extensive portfolio of leaks
19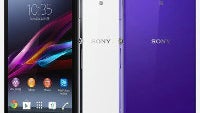 The steady supply of leaks on theSony Xperia Z1, aka Honami, has definitelycreated its own demand and has left us smirking for the most part –it sure feels like Sony's thunder has been completely and irrevocablystolen. And while some of us prefer the not-knowing part, others havethe wrappers off way before midnight on Christmas Eve. To that end,and if you find you consistently number yourself in the second group,then the last scoopful on the Honami won't leave you wanting.
Helping put the Sony Xperia Z1 intoperspective are a few snaps of what is allegedly the metal frame of thephone, courtesy of cell phone parts supplier ETrade Supply. Theplethora of keys and slots are said to all feature a water-prooflayer on top of them, consistent with thelatest teaser from Sony touting as much. The frame also fits withthefew other teaser images we've seen, some official and others notso much.
And while it shouldn't be too longuntil we see a fully assembled Honami, we are nevertheless going tonote that the bezels seem perceptibly narrower when compared to thoseof the Xperia Z. This should help both with sticking to yieldlydimensions, and also help reduce displeasure over the seeminglyboxed-in screens of the Xperia line as a whole, thanks to the fattybezels.
source: ETrade Supply