Tiny Apps joins the cohort of floating app suites for Android
5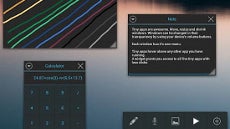 Envious that some Samsung, LG and Sony Android device owners have multi-window modes, Small Apps, QSlide suites and whatnot that can detach the video playback in a hovering window or let you pin notes and calculator on top of everything else?
Well, Android's versatility is here to help. There are solutions out there that allow you to "float" videos, a note list, calculator, even browser and whatnot, above anything else you are doing underneath, and
Tiny Apps
is the newest entrant in the floating apps category. It offers Tiny Notes, Recorder, Paint, Music Player and Calculator.
Needless to say this aids significantly with multitasking on your handset or tablet as it lets you see and do more things at once. While not exactly a
multi-window mode
, "floating" apps can certainly come in handy at various situations, so check out some of the best in the slideshow below.