Time traveler using cell phone captured in 1928 video of Chaplin premiere?
57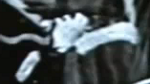 There are stories that make the hair on the back of your neck stick straight up. Like the so-called ghost image of a kid who supposedly shot himself and can be viewed in some apartment scene in the movie "Three Men and a Baby". Of course, that was debunked when it was brought out that the scene was filmed on a sound stage and the image was nothing more than a cardboard cut out of Ted Danson that was made for a deleted scene from the flick.
What about the photo that allegedly shows Lee Harvey Oswald glancing at the Presidential motorcade from the doorway of the Texas School Book Deepository at roughly the same time he is said to be firing the fatal shots? That too, turned out to be false as the photo was of TSBD worker Billy Lovelady (who did, in fact, bare an uncanny resemblance to Oswald).
When something shows up that can not be explained, it changes our way of thinking until an answer is found. Take the video below which shows the crowd at the 1928 Grauman's Chinese Theater debut of Charlie Chaplin's "The Circus". It appears as though a lady in the crowd (or a man in drag) is using a cell phone as the device is put up to her ear. Now, we have all seen some amazing apps, but we don't think that a time traveling one has been developed at this moment. For what it's worth, in 1928 the Galvin Manufacturing Co. was founded. The name of that company today? Motorola.
source:
ledger-enquirer
**UPDATE**
A non-cellphone forum was discussing the video clip of the "time traveler" and someone posted these pictures below of hearing aids used in the 1920's. They were placed up to the ear in order for the person to hear. Of course, it doesn't explain her talking into the slab-like object in her hand!