Tim Cook spent 30+ minutes on the Apple Watch without mentioning battery life
34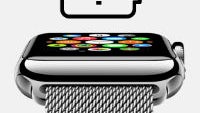 As had been widely expected, Apple unveiled its own smartwatch today as the classic "one more thing..." following the announcement of the iPhone 6 and iPhone 6 Plus. Tim Cook himself spoke for over 30 minutes about the
Apple Watch
and talked about a number of the features we should expect, but there was one piece of information left out: battery life.
There are basically two reasons why the battery life wasn't mentioned as part of the presentation, and which one you suspect to be true is likely informed by your opinion of Apple itself. The first option, for those who give Apple the benefit of the doubt, is that Apple doesn't really know what the battery life will be, because the software is far from being optimized. It is early September now, and the release window for the Apple Watch is "early 2015", which leaves at least four months of software work to be done, and a lot can change in that time when it comes to battery life optimization.
The other possibility, for those who assume the worst of Apple, is that the battery life on the Apple Watch is terrible, Apple knows it, and is delaying the inevitable bad news. We obviously won't know for quite a while which is the real reason, but which do you suspect?