Tim Cook received $378 million for 2011 but will have to stay at Apple to collect most of it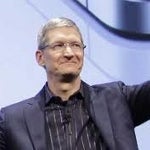 Shark Tank;
at least, not yet. According to the New York Times, $376 million of the $378 million that Cook received for his performance last year was
awarded in the form of a one-time stock grant
. But before Cook can start dialing his broker, the grant does not fully vest unless Cook stays with Apple for ten years. According to the Times, half the grant vests in 2016 while the remainder vests in 2021.
The CEO's 2011 salary of $900,000 would make most of us very happy, but is below the median pay for a CEO in the States which is a whopping $14.4 million. With other compensation, the Apple CEO took home $1.8 million in 2011. Including the stock award, Cook is the
highest compensated CEO in the country
. Oracle head man Larry Ellison comes in second with $77.6 million followed by Cook's former co-worker Ron Johnson. Johnson, who once headed Apple's retail stores, now works for J.C. Penney where he took in $53.3 million.
In a time when CEO pay is usually criticized by shareholders, Apple's amazing rise (the stock made a new all-time high today) will usually guarantee that the company's stockholders
remain silent on the question of executive pay
. After all, the main complaint about high executive pay is that it is given out to those running companies with a poorly acting stock. As long as stockholders continue to make money with Apple's stock, there will be no one complaining about how much the tech titan's executives are making.
source:
NYTimes
via
Electronista