Tim Cook comment hints iPhone 7 Apple Pencil support
26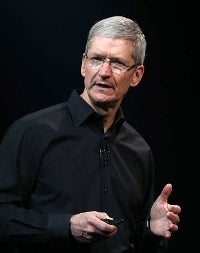 Among the numerous features set to grace
almost official
Apple
iPhone 7
and
7 Plus
, there may be support for the Apple Pencil
stylus
first introduced to the
iPad Pro range
. A seemingly off-the-cuff remark made earlier this year by CEO Tim Cook suggests that Apple has been working on bringing Pencil to the iPhone's repertoire, though it remains to be seen if either of this year's models will be the first recipients.
Back in June,
NDTV
's Vikram Chandraback spoke with Cook on a variety of topics, including Apple Pencil. At one point, Chandraback made reference to Steve Jobs' infamous
"Yuck! Nobody wants a stylus"
sentiments, and asked Cook if he ever wondered what the late co-founder
would think of Pencil
. Cook replied:
Well we launched a pencil, not a stylus, first of all, and there's a big difference, and the things that people are doing with this pencil, I think that Steve would have loved. He loved to help people create. And if you've ever seen what can be created with that pencil on an iPad
or an iPhone
, it's really unbelievable. You should really show some of these to your audience.
From this, we can glean that Apple has probably been at least testing Pencil for the iPhone. Given the apparently
"unbelievable"
nature of the subsequent creations, we'd also guess that consumers will eventually reap the benefits. There hasn't been much in the
iPhone 7 leaks
to suggest that today's new models will see any kind of pencil action, but it's not like Apple hasn't surprised the world before.
If and when the fruit company does bring Pencil to the iPhone, the larger, Plus model would seem the favored candidate. Indeed, perhaps Apple could even branch off à la iPad and introduce an iPhone Pro series in the future. Whatever the case, if there's anything to Cook's slip of the tongue, we'll probably have to wait for it.
Would you like to see Apple's
not
-stylus make its way to iPhone? Let us know in the comments.