Three microphones and HD voice support make the iPhone 5 the best calling devices from Apple yet
19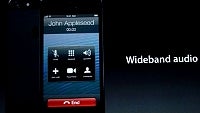 Apple touted not one or two, but three microphones on the new
iPhone 5
, and said it supports wideband audio, depending on the carrier, which in layman's terms is known as
HD voice
.
Wideband, or the so-called high-definition voice is a good thing, as it allows for superior clarity and best audio experience in VoIP and calling. It doubles both the sound spectrum width, and the sampling rate, so voices come out exceptionally loud and clear, with a fraction of the bandwidth needed by the traditional solution.
Cupertino said at the announcement that 20 carriers will be supporting this feature when the iPhone 5 appears on their network, so this must be the best phoning device Apple has ever made.
The noise-cancellation is also aided by the
three microphones
, situated strategically front, back and bottom forming a beam to filter the background noise, and leave only that sweet HD voice sound in your ears. Orange is one of the carriers that has touted its HD voice support for a while now, so have a look at one of their old promo videos below to gauge what's in store with the iPhone 5.