Three Clintons and a Kimmel can't beat Ellen
12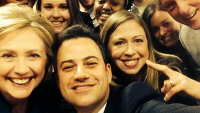 We all know about the group selfie taken by Ellen's
Samsung Galaxy Note 3
that set the record for the most popular tweet
. That shot, which was actually snapped by Bradley Cooper, was used by Samsung's rivals to poke fun at the Korean manufacturer the next morning. For example, fellow Korean tech giant LG sent out a tweet saying that Ellen herself could have taken the picture
had she used the volume down button on the rear of the LG G2
.
Even though the Academy Awards took place three weeks ago, Ellen's selfie is still in the news (as is John Travolta's unfortunate introduction of Broadway star Idina Menzel as Adele Dazeem). Maybe Jimmy Kimmel was only kidding around, but he might have thought that he had the firepower to ring up a large number of re-tweets with a group selfie he took Saturday night in Tempe Arizona.
Kimmel shared a photo with a former president, a possible president, and the person who is the daughter to both of them. Of course, we are talking about the Clintons. The photo of Bill, Hillary and Chelsea included Jimmy Kimmel and some unknown people in the background. "
No Brad Cooper but 3 Clintons & a Kimmel
," the late night host tweeted. Kimmel was holding a panel-style interview with the Clintons at Clinton Global Initiative University.
So how close did Kimmel's tweet get to Ellen's record? The record breaking message from Ellen has 3.4 million re-tweets. The Kimmel shot has over 8,000. And no, FOX News did not use that data to declare Hillary the loser of the 2016 U.S. Presidential election. One last piece of information, the phone used by Kimmel has not been revealed.
source:
@jimmykimmel
via
Yahoo
Recommended Stories