This is what the Galaxy S8 would have looked like if it had a physical home button
35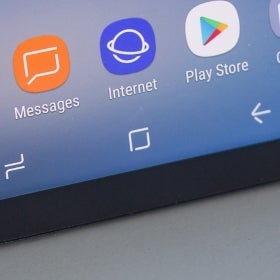 The
Samsung Galaxy S8
and
Galaxy S8+
changed the brand's design more than any other Galaxy before them. Not only that they went nearly bezel-less, but they're also the first of the Galaxy family to get rid of the physical home button.
This made for an impressive jump in design, but this may not have always been the final plan for the Galaxy S8 and its bigger sibling. Thanks to a patent filed with the European Trade Mark and Design Network, we now have the chance to see how these two phones would look with actual, physical home buttons.
As you can see by the images below, the difference isn't that big at all. The device looks pretty much the same, safe for the pill-shaped home button on the bottom bezel. Still, we have to admit that the physical home button doesn't look as good as the clear surface we have in its place right now.
On the other hand, the fingerprint scanner is not in the somewhat questionable position next to the camera. The current position of the scanner has caused plenty of debate both in the PhoneArena office, and among users, so this could have been avoided with a regular home button.
It's unclear whether this patent was filed for the sake of having the design patented, or it was an actual prototype, but we know for a fact that Samsung has been testing different versions of its latest flagships before deciding on its final looks and features.
Do let us know in the comments, do you prefer the current button-less version, or would you rather have the physical button from this patent?
source:
European Trademark and Design Network
via
SamMobile