This iPhone 7 dummy is allegedly an exact copy of the real deal
17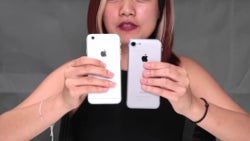 The
iPhone 7
leaks and rumors are running rampant, with pictures of back panels, dummies, and knockoffs popping up all over the Internet. Out of the heaps and hurdles came out this video, where the presenter admits that what she is holding in her hands is a duplicate. However, she and whoever writes comments on behalf of this YouTube channel claim that the dummy has been built by someone that is directly involved with the Apple supply line. Of course, the leakster is kept a secret for understandable reasons.
So, what do we have? The modified plastic antenna bands are seen again, the two speaker grilles on the bottom as well. The absence of a headphone jack gets reiterated. The camera bump is still there and it is in that new "hill style", which we've seen in other leaks, instead of the iPhone 6 ring-like outgrowth. There's also an
iPhone 6
in the video for comparison purposes, showing again that the new handset's design isn't going to evolve that much.
All in all, nothing new was revealed. Features (or the lack of such) and design choices get reiterated over and over and, if the claim that this is an exact duplicate built by someone in the supply line is true, we pretty much know what the iPhone 7 would look like 2 months before its official announcement. Is nothing sacred anymore?