This billionaire is an Apple iPhone 6 fan
43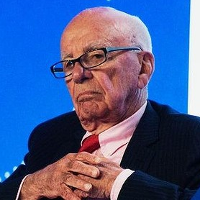 It is always interesting to see what handsets the rich and famous use. Why? Because these people have the wherewithal to purchase any phone they want, regardless of price. We have discovered over the last few years that
Mark Cuban replaced his Apple iPhone 5 with a Nokia Lumia 920
. Another billionaire who left the iOS platform for another phone, is Cuban's cast mate on ABC-TV's highly engaging
Shark Tank
, Kevin O' Leary. "Mr. Wonderful," as he is called, traded in his iPhone for the
BlackBerry Z10
. Frankly, we wouldn't be surprised to hear that O'Leary is rocking a
BlackBerry Passport
. The business-centric phone seems like the perfect device for O'Leary to use to view spreadsheets and P/L statements.
So that brings us to the latest billionaire to make his choice of smartphone known. Rupert Murdoch sent out a tweet on Sunday, noting how the computing power on the Space Shuttle Endeavour is nothing compared to the computing power on today's smartphone. "
Luckily own beautiful iPhone 6
," tweeted Murdoch. Yes, Rupert Murdoch sports the
Apple iPhone 6
.
You wouldn't expect Murdoch to carry around an Android phone anyway, considering the feud between the billionaire and Google. Last month, Murdoch criticized Google saying that the tech titan loves to "
exploit its dominant market position to stifle competition
." He also accused the company of being a "
platform for piracy and the spread of malicious networks
." Google fired back with an open letter to Murdoch, saying that it has done more than most other firms to fight against online piracy.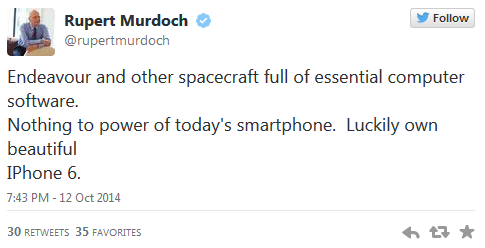 Billionaire Murdoch tweets his love for the Apple iPhone 6
source:
TheRegister