This battery case will double the battery life of your Samsung Galaxy S4
21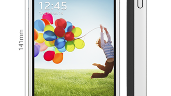 Meet the uNu Aero Battery Case for the Samsung Galaxy S4 – an NFC-enabled wireless charging battery pack, which will double the battery life of your device. The case comes with a 2,600mAh battery that adds power to the Galaxy S4's own 2,600mAh one. This means that you'll have some 5,200mAh at your disposal.
The uNu Aero Battery Case comes with a side bezel, a back cover, and the aforementioned 2,600mAh battery. But how do you connect the two batteries together? Pretty simple, in fact. The uNu Aero 2,600mAh battery comes with a specific design that allows you to snap the original Galaxy S4 battery onto it. After you've done so, you have to insert them both into the device and put your device in the uNu Aero side bezel and snap the cover over.
The uNu Aero case allows you to wirelessly charge it via the included Aero charging pad, too. The uNu Aero back cover comes with two small charging points, which have to make contact with the charging pad. Of course, the speed of this wireless charging method can't stand up to the regular charging via an USB cable.
The uNu Aero Battery Case for the Galaxy S4 might suit those, who are not afraid to add some bulk to their smartphones, but want to double their battery life. If it sounds like your cup of tea, you can obtain it for as much as $89.95. It is available in select colors, such as black, white, pink, and turquoise.
source:
uNu
via
AndroidGuys