This affordable quick charger could double up how fast you recharge your phone, is on sale now
33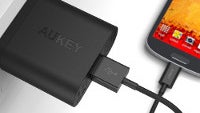 If you have a flagship Android phone made within the last two years, chances are that it supports Qualcomm's Quick Charge 2.0 technology allowing you to juice up its battery much faster than you would using older, regular chargers.
Unfortunately, manufacturers don't always include a compatible charger in the box and instead opt for more affordable wall chargers that sometimes take 3 hours and more to fully charge a phone. The Sony Xperia Z3 is just one example: in our
recharge test
, we measured that it takes 235 minutes, or nearly 4 hours to fully recharge its battery from zero to 100%. No wonder, given it only features a 850 mA charger in the box, while support for QuickCharge 2.0 allows it take 2 amps at its 5 volt battery chemistry.
With all this context in mind, here is a reliable and very affordable QuickCharge 2.0 compatible charger that will boost charging speeds significantly on phones supporting the technology: the Aukey Turbo Wall Charger.
You can get it for just $11 on Amazon right now using the code "
8L2O86R8
". Hit the link right below to see the listing:
And if you're wondering what smartphones are compatible with QuickCharge 2.0 tech that will make the best use of this charger, here is a list:
Samsung Galaxy Note 4/Galaxy Note Edge
Google Nexus 6
Sony Xperia Z4, Z4 Tablet, Z3, Z3 Compact, Z3 Tablet Compact, Z2 Tablet
Motorola Droid Turbo, Moto X 2014
HTC One M9, HTC One M8, One Remix (Verizon Mini 2), Desire EYE
LG G Flex2
Xiaomi Mi 3, Mi 4, Mi Note
Recommended Stories