This Nokia featurephone is the choice of U.K. drug dealers
22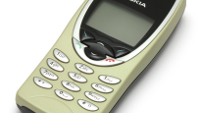 Here is an interesting story out of the U.K. It seems that there remains strong demand for a certain Nokia featurephone from a specific demographic. Because older handsets don't track where you are every second of the day, drug dealers have been looking to purchase old school phones. The model of choice is the Nokia 8210.
The Nokia 8210 is perfect for the person who needs cellphone connectivity without all of the modern trappings. Without GPS, the phone isn't be tracked by satellite. Without Wi-Fi or Bluetooth connectivity, the cops have a hard time getting information from the handset when it is in use. Yet, the device does have an infrared feature that allows the quick transfer of information when phones need to be swapped. And since it doesn't have apps that eat away at your battery life, you can go for a long time without needing to plug it in.
"I've got three Nokia 8210 phones and have been told they can be trusted, unlike these iPhones and new phones, which the police can easily [use to] find out where you've been...the feds can now use Wi-Fi and Bluetooth to get information from the phone, and seem to be able to listen to phones a lot easier now than ever before. Every dealer I know uses old phones, and the Nokia 8210 is the one everyone wants because of how small it is and how long the battery lasts. And it was the best phone when it came out. I couldn't afford one in Jamaica back in the day, but now I've got four."-K2, drug dealer
An anonymous phone store owner in Soho said that he has had potential phone buyers come into the store often, looking for the Nokia 8210. But since it was manufactured in 1999, it is a rare find. Anytime stores happen to get one in, it sells immediately. And some addicts are finding out that they can be used to trade for drugs. A 32-year old addict named Tony was using a Nokia 8210 because his Samsung Galaxy handset was broken. Two dealers offered to buy it from him. But Tony ended up trading it to a third dealer for $50 worth of crack.
You can check out a commercial for the Nokia 8210 from 1999. Simply click on the video below.
source:
Vice
via
Gizmodo