This Galaxy S10 Lite battery capacity leak has us salivating
8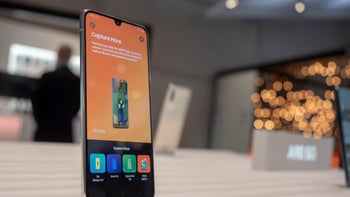 The alleged
Samsung Galaxy S10 Lite
(SM-G770F) that is making the rounds was shaping up to be an absolute holiday hit already, righting all the
Galaxy S10e
wrongs, but after its battery capacity just leaked, that notion is pretty much cemented.
While the S10e was supposed to be to the S10 series what the
iPhone 11
is to the 2019 crop, it turned out to be the readheaded step child, and not because it lacks virtues. If the S10 Lite materializes with the rumored larger flat screen but
still a Snapdragon 855 chipset
and a great camera, it will fill a niche that Samsung hasn't so far. If the price is about or a bit below the S10e, even more so.
Galaxy S10 Lite rumored specs
Samsung isn't done with the expected pleasant surprises about the eventual S10 Lite, or whatever it gets named. The SM-G770F model number just
leaked
in a carrier database (
Anatel Brazil
), listed with a cool 4370 mAh battery pack. That's already more generous than the
Note 10+
capacity, but it's actually likely to be paired with a 1080p display resolution, bringing the battery life close to a record for Samsung.

In fact, the closest to the S10 Lite Samsung phone we can think of is the
Galaxy A90 5G
(pictured above). Granted, it is equipped with a slightly larger, 4500mAh battery but Samsung lists its 1080p screen diagonal as, and we quote, "
6.7 inch full rectangle, or 6.5 inch rounded corners
," or about the two rumored S10 Lite screen sizes.
The A90 5G is also powered by a Snapdragon 855, and adds a "depth" sensor as the third camera wheel, instead of encroaching on the S10 turf with a telephoto lens. That's what we would expect from an eventual S10 Lite, too.
Galaxy S10 Lite price and release date
As for the price and release date, well, it is certainly coming to Brazil, and we'd expect the tag to be close match to the iPhone 11's $699 pricing, while at the same time offering more - more display resolution, more battery, and more cameras. Now, whether this Latin American availability will translate to a US carrier release, remains to be seen, but given the eventual specs and price tag, we'd certainly hope so.