This Chinese phone has a 1080p screen, quad-core processor, costs $230
28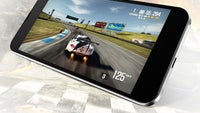 Zopo is a smartphone manufacturer that you've surely never heard of. That's because its products – Android handsets that have a suspicious resemblance to Samsung, LG, and HTC devices, are tailored for the Asian market. Then why are we even bothering to write about a lesser known company like this? Well, it's because their latest smartphone is a bit different from the rest.
Before we even get to its hardware specs, we have to point out that the Zopo C2 runs Aliyun OS, which is a Linux-based system "inspired" by Android. Well, a little too inspired, maybe, since
Google itself blocked the launch of an Aliyun OS smartphone
back in 2012. And it had its reasons for the system was built upon key Android components without permission. How the argument between Google and the new platform's creators has been solved isn't quite clear.
What's pretty clear, on the other hand, is that the Zopo C2 boasts some droolworthy specs despite being priced at about $230. There's a 5-inch 1080p screen on its front, made using LTPS technology. Inside it runs a MediaTek MT6589 quad-core chip, clocked at 1.2GHz and paired with 1GB of RAM. A 13-megapixel camera with f/2.2 aperture rests on the smartphone's back while a 5 (yes, five) megapixel front-facing cam is placed above the screen for fabulous self-shots. Moreover, there are 4GB of storage, a microSD card slot, a removable 2000mAh battery, and a Yamaha audio chip. All of that goodness is packed inside a body that's only 8.5 millimeters thick.
5000 Zopo C2 units are expected to ship in April and pre-orders are currently open. However, getting one might be easier said than done since you'll need a Tmall (China's eBay) account in order to do that.