This Apple Watch band will let you know when you're legally drunk
11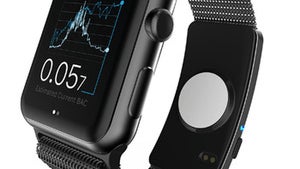 Fun fact about Vegas: they serve no alcohol there. You can't buy it in stores either. Except that I totally lied. Booze can be bought 24/7 in the City of Sin, which makes it a place appropriate for announcing a product like this one.
At CES 2017, BACtrack – a company known for its breathalyzers – is demoing an Apple Watch band that can measure the wearer's blood alcohol content. Called the BACtrack Skyn, it takes measurements in near-real time, with zero effort required on the user's side. If a legally drunk state is about to be reached, the gizmo sends an alert, letting the user know that they should slow down their intake.
Don't have an Apple Watch? Well, that's okay. The BACtrack Skyn can be used on its own, although you'd still need an iPhone to view the pretty graphs showing your BAC content changing over time.
How does it work? With the right set of sensors, of course. The BACtrack Skyn detects the small amounts of alcohol that is released through the skin. Using a proprietary algorithm, the wearable converts its measurements into a BAC estimate.
The BACtrack Skyn is going to cost about $99 when released later this year, but you can take a look at it if you're attending CES. BYOB, I suppose.