Third-party back covers for the Lumia 950 and Lumia 950 XL appear online, leather variants included
17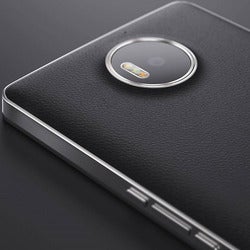 After all the leaks and rumors, the Lumia 950 and Luimia 950 XL by Microsoft are now official. They're powerful, they're packed with potent hardware, and they run the new Windows 10 Mobile platform. They're also... not something we'd call beautiful. The Lumia 950 and
Lumia 950 XL
are rather ordinary-looking and don't seem to have much to stand out with visually. But there's something one can do about it, as it turns out.
You see, the Lumia 950 and Lumia 950 XL have removable back covers made of black or white plastic – a practical and durable material, but not one that might score an award in design excellency. A leather back, on the other hand, may suit the new Lumias much better. And the guys at Mozo Accessories, who are an official Microsoft partner, seem to have just the thing. The company is about to release replacement back covers for both handsets. Among them is one made of genuine leather – brown in color, with stitching around the sides. For Lumia 950 owners who aren't into leather, there's also a back cover painted in a striking, vivid hue of red. Traditional black and white replacement covers are listed online as well and seem to feature slightly different textures compared to their stock counterparts.
Mind you, these replacement covers by Mozo Accessories are compatible with NFC and
wireless charging
, just like the stock ones. But they're also quite expensive. All variants carry a MSRP of 48 euro or 40 British pounds ($54 or $61, depending on which currency you're converting from). Whether that's a worthy investment is up to every Lumia 950 and Lumia 950 XL owner to decide. Both smartphones are scheduled to launch in November, with the Lumia 950 headed to AT&T in the States.
Microsoft Lumia 950 and Lumia 950 XL back covers by Mozo Accessories