Third party Nokia Lumia 928 accessories start to appear
11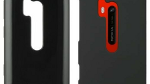 With the
Nokia Lumia 928
a little more than
two weeks away from its possible introduction
, already third party accessories for the phone are being discovered. Luxmo, for example, is offering a clear phone cover protector case for the Windows Phone 8 flavored model priced at $12.99 with free shipping. Only four cases are left in stock as we write this.
Atom is offering a bundle consisting of a hard black plastic rear case, an LED keychain light, screen protector and a micro USB car charger all for the price of $9.99. Not a bad price considering some car chargers cost much more alone. Luxmo also has what it claims to be a "perfect fit" for the Nokia Lumia 928, a protector case that allows access to all buttons, ports, controls and the screen. Priced at just $1.31, this seems like an accessory that buyers of the phone could afford to take a flyer on. The case protects the phone from scratches or chips although it doesn't say how much protection it offers in case you flat out drop your phone.
By the time third party accessories start to hit the public, the launch of a device is usually
not too far away
.
source: Amazon (
1
), (
2
), (
3
) via
WMPoweruser

One of third party accessories available for the unannounced Nokia Lumia 928