Snap's new Spectacles to include two cameras, AR features and a $350 price tag?
3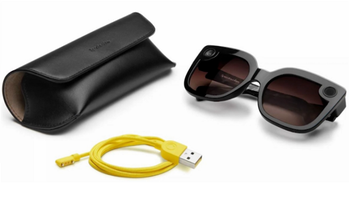 Beleaguered Snap, parent of messaging app Snapchat, could soon release its third generation Spectacles sunglasses.
According to a story in Cheddar
, the sunglasses will be launched before the end of this year and will be equipped with two video cameras; the first two generations of the device carried a single camera and allowed a Spectacles wearer to tap a button to record 10 seconds of video. Overall, 30 seconds of video could be recorded at one time and uploaded to social media.
The second generation model, introduced earlier this year
, upgraded the resolution of the video to HD and added the ability of the wearer to send out live streaming video. The upcoming third version of the Spectacles, with a rumored code name of Newport, is believed to be made out of aluminum instead of plastic. Snap is expected to slap a price tag of $350 on the new Specatacles as opposed to the $129.99 cost of the second generation model. With the two cameras onboard the new Spectacles, users will be able to experience Augmented Reality features, including the ability to place AR lenses directly on top of clips taken of the real world. The glasses might also support 3D-photo effects.
We wonder what makes Snap brass believe that they can sell a new version of Spectacles for $350 when they couldn't sell the cheaper models. The company had to write off $40 million in unsold inventory of the OG Spectacles. Perhaps CEO Evan Spiegel feels that he has to do something. After all, Snapchat has been losing visitors and the company's stock has dropped from $14.47 to the current price of $6.12 over the last six months.