Think you're good at doing math in your head? Try Math Effect
6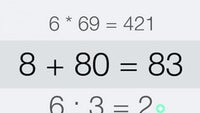 There are 10 types of people - those who understand binary and those who don't. This nerdy joke, however, has little to do with the app we've got to highlight for you today - Math Effect. We're dealing with a piece of software that's part game, part tool for forging your ability to rapidly solve simple algebraic equations without the aid of a calculator or pen and paper. Or In plain words, it is a speed math game and an app that can definitely make you a smarter person. Do we have your attention already?
Math Effect has three different game modes to offer. The first one (we spent the most time playing this mode, by the way) bombards you with one equation after another, and you have to say whether the highlighted one is true or not. You have a time limit to solve as many of them as possible, and if you make a mistake, then your streak is over regardless of what the timer is showing. The second game mode generates ten equations, and again, your task is to hit "True" or "False", whichever is correct, as quickly as possible. You'll have to start over in case you make an error. Lastly, the third game mode is arguably the hardest one of all. It gives you only five seconds to say whether a given equation is correct or not. The more you play Math Effect, the higher your level goes. Higher levels give you a higher time limit, or let you make one or more mistakes before it is game over.
Math Effect is available for free at the Google Play store. It is supported by ads, however, so you'll be getting some popping up every now and then.
| | |
| --- | --- |
| Developer: Kidga Games | Download: Android |
| Genre: Casual, Brain and puzzle | Price: Free (with ads) |