These are the best office apps for Android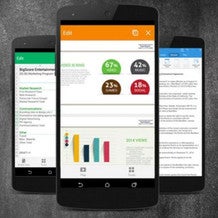 Let's be honest here – most of us don't do any serious work on our smartphones. They're not really made for that. We use our smartphones to keep ourselves entertained, to stay in touch with the world, and to capture moments of every-day life, not to write term papers or to do our taxes. Given the right apps, however, a smartphone or a tablet can turn into an actual productivity tool – one that's ideal for getting some light work done on the go. The software you need is an office suite.
To meet the productivity needs of Android users, the Play Store offers a whole bunch of document viewers, word processors, and anything in between. In the slideshow below, however, you'll find the Android office apps that truly matter. They can open and edit documents, spreadsheets, and presentations, much like the suites available on desktop OSes. Better yet, the apps we have picked are all free, although some do have Pro versions or extra features available as in-app purchases. Check them out!