These are the 5 most popular devices from each major Android manufacturer in 2015
20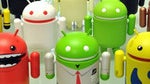 With billions of Android smartphone sold on a yearly basis nowadays, you can imagine that tracking sales data is kind of tricky, even if yours is an agency dedicated to this kind of research. Indeed, if any one company on the planet has a good idea as to the volume split between manufacturers, but also between their various models, in terms of popularity, it's Google. And yet, even if Google
does
have such data, it's not making any of it public.
Here's whats hot with each maker:
Samsung
With more than a 250 different models recorded, Samsung is, unsurprisingly, at the top of the food chain as far as Android device sales are concerned. Interestingly enough, while the majority of other manufacturers on the list feature low-end/relatively obscure devices in their Top 5 grab, Samsung's is almost exclusively about flagships.
LG
Next up in terms of popularity are LG's handsets, of which OpenSignal has recorded over 150 different models of. Most of them are lower-end phones, though the top two slots are occupied by flagships:
Sony
Sony's count came out a little shy of 100 devices, which is still plenty. Like Samsung, the Japanese smartphone maker's flagship devices is where it's at with the majority of consumers:
Motorola
Motorola managed a little over 50 devices, but unlike the rest of the makers on our radar today, its list of most popular devices is entirely comprised of low-end devices! Take a look:
HTC
HTC managed to land some 60+ devices, all of differing model. The number one spot is reserved for last year's flagship, the One M8, and previous top-shelfers:
Huawei
Some 70+ Huawei devices made it to the list, lead by affordable models. A few past flaghips — including the Huawei Ascend P7 — also made it to the Top 5, however:
Google (Nexus)
Google's Nexus line, while relatively tiny, still has a few models to offer to the public, and in terms of critical success, Nexus-branded devices have been very well-received. Here are the most popular of them in 2015: