The ugly side of humanity: Pregnant Boost Mobile clerk gets punched in a robbery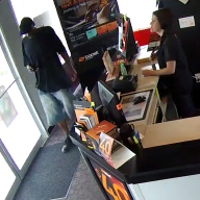 With thousands of locations dotting the country from coast to coast, brick and mortar stores belonging to the nation's wireless carriers have been the target of robberies before. Usually, the thieves wait for the store to close, and then
break the glass door or window for access to phones that are on display
. But in the case of a Boost Mobile store in Pensacola, Florida, the robber took a different, more violent approach.
Wednesday afternoon, a man came in through the door of the Boost Mobile store twice. On his second visit, the man, unsteady on his feet, pulls out a cellphone and appears to looking at the screen. As this is taking place, the man is moving closer to the pregnant clerk behind the desk. Suddenly, without warning, the man unleashes a left to the face of the clerk that drops her to the floor.
With the clerk in shock, the thief walks to the cash register and calmly removes all of the cash. After he walks out of the store, the stunned clerk gets to her feet, suffering the effects of a broken nose. We are happy to report that the baby is okay. And as far as law-enforcement is concerned, the cops got a huge break when a video from the surveillance camera was released.
While you can view the video of this violent crime at the sourcelink, we should warn you that it is graphic and some might find it disturbing. More disturbing for those who work in the area, is the fact that the thief remains at-large. The store owner is offering a $1000 reward for information leading to his arrest.
Thanks for the tip, Suzanne!
source:
dropcam
via
WPLG