Burglars rob the Boulder Apple Store smashing a $100 000 glass door, score zero for subtlety
66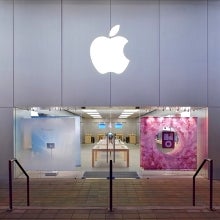 There are subtle Apple Store thefts, like
the one in Paris on New Year's Eve
, where the culprits went away with nearly two millions worth of loot on the hush-hush, and there are not so subtle ones, like
the one ending with a BMW X5 into the store
, or the one on Saturday in Boulder, CO.
The cowboy ones seem to cause more damage than the stolen merchandise is worth, and the Boulder Apple Store assault during the weekend fits the description.
The gang simply threw three rocks in the $100, 000 custom glass door, smashed it to pieces, and scored about $64, 000 worth of iPhones, Macs and iPads in the blink of an eye. These are an easy sell, but according to Colorado law, the buyers might be in for a surprise when tracked, as the original owner - in the case Apple - has the right to receive back the stolen property.