The super-sized chart: meet the largest smartphones on the planet (2015)
99+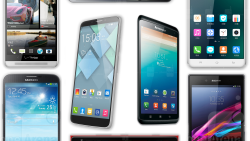 As pertains to large-screened smartphones, a curious sense of insecurity has taken root in the smartphone industry, and it's not so much about the size, but rather the way we deal with it. More specifically, the way we dealt with it in the past has come to haunt many a tech blogger.
Does anyone remember the 4.65-inch Galaxy Nexus? The 4.7-inch HTC Titan? These were the 'crazy' phablets of days past. Today, these are both considered medium-sized flagships. In just a few short years, we went from being horrified at the thought of anything exceeding 4 inches, to a state where those appear tiny, even when compared to the mini versions of popular top-shelf models. So, are we in for another round? Are the below listed giants on path to become the new standard? Or are we reaching a fundamental limit? We sure would like to join voices with the seemingly outraged community, yet we're a tad jittery, and can't quite muster up the courage to make a definitive statement, all things considered. In any case, it does seem like the phablet category will endure, and, if anything, is growing more diverse. And ever larger, of course.
So how big is big enough? Six inches, minimum, at least if you were to ask the creators of the massive beasts you'll find right below. And after all, why the heck no? In the end, bar price considerations, these are small, voice calls-capable tablets in super-'compact' bodies. And, fellas, they are here to stay.