The smart-glasses age gets an early start with the Vuzix M100 available for pre-order
1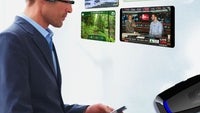 Digital eye-wear maker Vuzix has made the Vuzix M100 smart-glasses available for pre-order. The $999 hi-tech spectacles that were
revealed at this year's CES
are now being sold through the company's website (although, at the time of writing, clicking on "Add to cart" lands you on a page with the M100 nowhere in sight) with shipment time indicated as 2 to 4 weeks. Vuzix deserves some praise for being the first manufacturer to come up with retail-ready smart-glasses, although we are yet to find out whether the M100 is a worthy investment, or simply another rushed product.
Vuzix describes its creation as an Android-based wearable computer with a monocular display, recording features and wireless connectivity, suitable for use in industrial, medical, retail and "prosumer" applications. As you'd expect from an Android-based smart-device, the M100 features applications with familiar concepts - such as recording pictures and video, organizing schedules and controlling your phone or tablet. But due to the mostly hands-free interface, they don't quite work the way you're used to. Still, the glasses do have four hardware buttons for convenience and can be operated through your Bluetooth-paired smartphone or tablet.
Vuzix has provided three usage scenarios for the M100. The glasses can act as a heads-up display for your Android/iOS device, have apps installed and run independently, or have the power of both devices harnessed by applications designed to take advantage of the "Collaborative" mode. Speaking of apps, the M100 is said to be compatible with "thousands of existing Android apps", and Vuzix intend to give developers easy access to resources and SDK's.
The droid inside these glasses is powered by a 1GHz OMAP4430 CPU coupled with 1GB RAM. They have 4GB of on-board expandable flash memory (up to 32GB) and a 5MP camera with 1080 video recording. Unlike Google Glass, the M100 has a light to indicate video recording, so you won't be able to spy around (unless you do some modding). A single-ear audio out and a pair of microphones take care of sound. Vision is provided by 16:9 WQVGA color display that floats near your line of sight. The display can be mounted in front of your left or right eye, and its tilt can be adjusted. A shield protects the screen and, allegedly, maximizes visibility in bright light. Other capabilities are three-dimensional head tracking, gyroscope, accelerometer, sensors for gestures, proximity and ambient light, as well as GPS.
Unfortunately, the integrated 600mAh battery will only last up to 6 hours with the display off, a mere 2 hours with display usage, and a meager 1 hour with both the display and camera in use. These numbers hardly add up to a high selling point, thus a 3800mAh external battery pack (with a nifty belt clip) will be available.
The Vuzix M100 currently supports Android, while iOS integration is being worked out. It's being sold in gray and white. With the advent of smart-watches and smart-glasses decidedly upon us, it's up to prospective developers to reveal the true potential of wearable computing.
source:
Vuzix
via Redmond Pie