Vuzix shows off Android-powered Google Glass competitor
3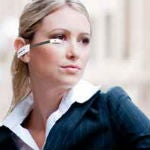 Once Google first announced
Project Glass
, it was pretty clear that there would be other companies trying to emulate the product (even if Google isn't fully sure how the product will be used). We've seen an
augmented reality glasses system from Microsoft
, but given the use case for that, it's hard to call it a "competitor" to Google Glass. Now at CES, Vuzix has shown off its own Android-powered M100 Smart Glasses, which are intended to be more of a competitor to Google.
The screen is a WQVGA (240x432) display with a 16:9 aspect ratio, which is said to be visually equivalent of a 4" smartphone screen held 14 inches from the eye. The Smart Glass has a dual-core OMAP4430 processor clocked at 1GHz, 1GB of RAM, 4GB of storage, and "fully customized Android ICS". There is also a microSD slot that supports up to 8GB cards. There is a camera which can capture "HD 720p" photos and video, which means that it is at least 1.3MP, but no specifics were given. The big red flag for the product is in the battery life which is rated for 8 hours on a "typical usage profile", but using the screen cuts life to 2 hours, and using the camera as well will cut it to just 1 hour.
Android apps can be downloaded directly to the Smart Glass, but it seems that most of the functionality will come from linking the glasses to apps on your Android or iPhone through Bluetooth or WiFi.
We'll bring you more when we see some demos of the product.