The real Apple Watch vs the fake one: spot the difference in craftsmanship
17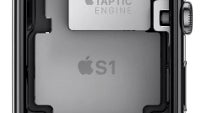 You didn't think that the wild west of the Chinese copycat industry wouldn't mimic one of the hottest gadgets in recent memory, you've been deeply mistaken, as the
Apple Watch
is getting its series of clones over there as we speak.
Apple waxed poetic about the craftsmanship and attention to detail that went into building its premium timepiece, and, if history is any indication, it is beautiful inside and out, as Apple likes to have its things pretty even under the hood. Now, someone has snapped a fake Apple Watch, and when compared to the real thing, it doesn't really stand a chance.
Despite the external similarities, probably nobody in their right level of geekiness or electronics snobbery will confuse this cheapo imitation with the real deal, but if you want to see how it differs for kicks and giggles, here are a few comparison snaps. Well, for $40-$80, you can't expect the same $350 level of craftsmanship, obvi.
Recommended Stories